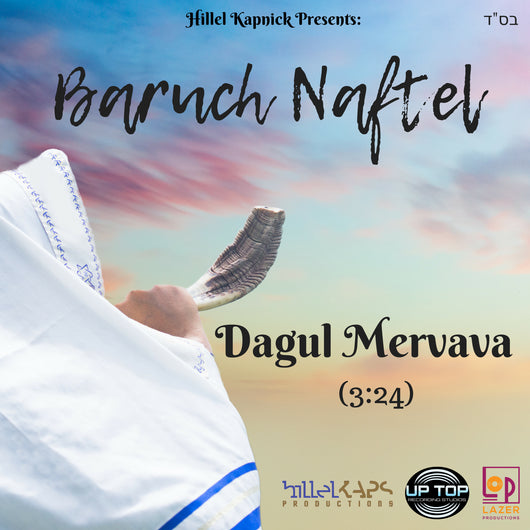 Baruch Naftel - Dagul Mervava
Coming off the heels of an Acapella version of his widely popular song "B'ezras Hashem" which was released this past sefirah season, Baruch Naftel is bringing something new to the table. For a number of years now he has been contracted out as Baal Tefilah for the Yomim Noraim in various locations across the country. Most recently his position has taken him to Uman, Ukraine, where thousands travel to the Tzion of R' Nachman of Breslov for Rosh Hashana. There he has taken the responsibility of leading the davening at a minyan not too far from the Tzion consisting of people from all walks of life. Baruch has decided that the time has come to share a little bit of this experience with the rest of the world. For this he has chosen to release his own take of the widely popular Bobover Niggun commonly used for the Piyut of "Dagul Mervava" sung in the Chazzans Repetition of the Shacharis Shemonah Esrei on Rosh Hashana & Yom Kippur. So sit back and enjoy this beautiful single. We hope it inspires you in these days of awe!
Credits: Produced by: Hillel Kapnick HillelKAPS Productions (www.HillelKaps.com)
Composed by: Bobov
Music & Backing Vocals by: Hillel Kapnick
Harmonica: Hillel Kapnick
Choir: Baruch Naftel & Hillel Kapnick
Recorded, Mixed, & Mastered by: Hillel Kapnick @ Uptop Studios (Monsey, NY)
Cover Design: ThinkingKAPS Marketing
Special Thanks: Hakadosh B"H, Chaim Y. Halpern, Aryeh Kunstler, Sruly Nachfolger, Chaim Dovid Eichler, Yoel Polatseck, Yitz Klapper, Moshe Masri - MRM Music, George Strauser, Yossi Zweig, Naftel Family, Kapnick Family, Masri Family, Nati Broyde & Family, David & Shira Mermelstein, Mr. & Mrs. Moshe Frank (Ellenville, NY), Rabbi & Mrs. Chanoch Oppenheim (Charlotte, NC), Ian Freitor, Tzali Stern, Duvi Moseson, Yochanan Gordon, Elimelech Blumstein, Nochi Krohn, Yossi Blumenberg.