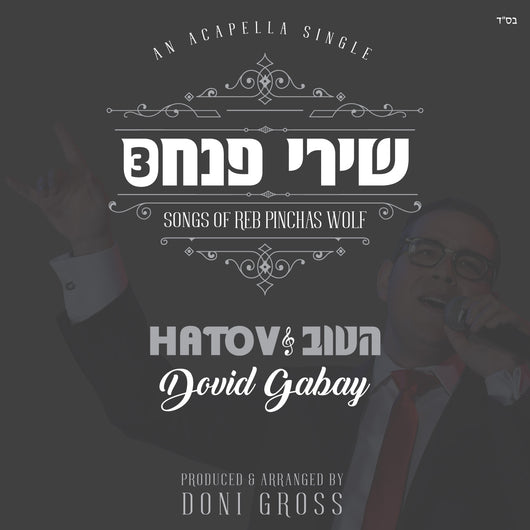 Shirei Pinchas - Hatov Acapella Single
With the release of his third album this past winter, composer Pinchas Wolf who is widely known for his haartzig nigunim has become a household name. His negunim re being sung by fans around the world and people want more. Last year Reb Pinchas released his first ever acapella song, a vocal version of this hit song "Vzakeini" featured on Shirei Pinchas 2, and the fans loved it. The song starred famed British vocalist Shloime Gertner and featured the beautiful harmonies of the Yedidim International choir.
Now Pinchas is releasing his second acapella song off the recent Shirei Pinchas 3. The song "Hatov" features renowned US singer Dovid Gabay.Dovid's melodic vocals are coupled again with the talented vocalists of Israel's premiere choir the Yedidim Internation choir. The result will have you playing this song again and again. The song, as well as Pinchas last two albums are arranged by the multi talented Doni Gross. You can download the song FREE on MostlyMusic.com, NigunMusic.com and MRMmusic.net.
Shirei Pinchas 1-3 are available for digital download on iTunes, Amazon Music, Google Play, Spotify as well as MostlyMusic and NigunMusic.
Follow Pinchas on social media.
Twitter: https://twitter.com/PinchasWolf
Facebook: https://www.facebook.com/PinchasWolfOfficial/
Instagram: https://www.instagram.com/pinchaswolf/