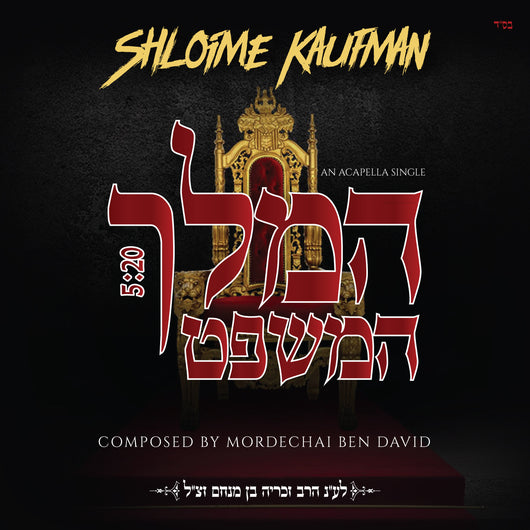 Shloime Kaufman - Hamelech Hamishpat
Shloime Kaufman is back with another ACAPELLA single: "Hamelech Hamishpat", to help everyone prepare for the upcoming Yomim Noroim. After his successful Acapella release of Mordy Shapiro's hit song "LI" during this past sefira, it was apparent that many people needed a "musical conduit" to stir their spiritual emotions. However, as we all prepare for Yom Hadin, there are very few musical tracks released that can properly elicit these feelings.
Besides all of our heartfelt prayers, HASHEM wants our hearts' and our souls' devotion. Who better to strike those chords deep inside of us than the King of Jewish Soul- MBD – Mordechai Ben David? Originally recorded on his "Yerushalayim is Not for Sale" album, "B'ain Mailitz Yosher", written by Mordechai himself, is the quintessential composition.
Shloime is proud to present his acapella version of this Yom Tov classic in the memory of Harav Zechariah Gelley zt'l, the beloved Rav of K'hal Adath Jeshurun (KAJ) in Washington Heights, New York. Rav Gelley zt'l was known for his commitment to teaching our Mesorah to the next generation, his unwavering love for his Kehila and above all his family.
In practicing the lessons that Rav Gelley zt'l imparted, the family is asking everyone to please visit www.friendsofoneg.org and make a donation to help support the amazing work of Oneg Shabbos v'Yom and help the hungry in Eretz Yisroel. In this zechus may Harav Zechariah b' Reb Menachem's neshama have an aliyah.
Composed by: MBD
Arranged by: Mordy Weinstein Max Mord Productions
Recorded at: Ruli Studios, Brooklyn NY, The Jam Room, Howell NJ
Additional Vocals by: Levi Parness
Edited and Mix by: Jeff Eames of Eames Audio
Cover Design/PR by: Yossi Zweig