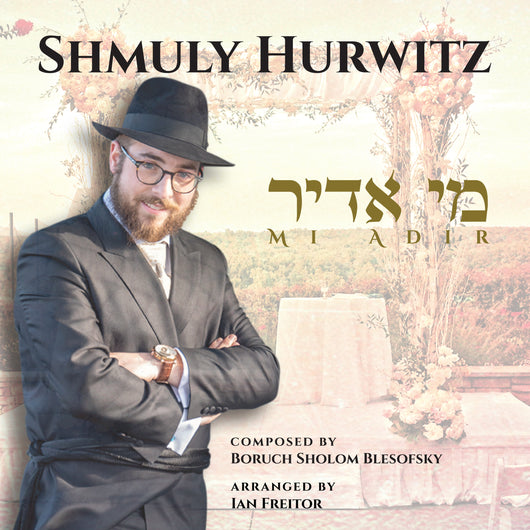 Shmuly Hurwitz - Mi Adir
In the times of the second Beis Hamikdash, Tu B'av was a day of celebration and one for matchmaking amongst Jewish singles who longed to build a Bayis Neeman. It is with that in mind that newcomer Shmuly Hurwitz is releasing his debut single "Mi Adir". The song was originally composed for his wife. It is now being released with the hope that this year will bring many shidduchim for all singles worldwide.  
Shmuly is no stranger to music and singing. He began his singing career like most children, singing along to Uncle Moishy in his house with his spoon as a microphone. As he got older, he joined up with several local choirs, his unique voice greatly impacting their sound. The Hurwitz family of Crown Heights is a very musical one, filled with great singers and chazzanim. His father, siblings and cousins all sing, and his older brother, Aryeh Lieb, is a well-known chazzan.
As he grew, so did his voice, maturing and becoming more refined. While in Yeshiva he continued to sing whenever opportunities arose and started learning chazzonus. During his time in Yeshiva in France he carried on singing. He then jetted off half way across the world to Australia for Shlichus, where he began leading the services as a chazzan. From there, Shmuly went to Israel to get Semicha at Mayanot, there too serving as a chazan as well as working in the studio on some original music. 
Shmuly then got engaged and was on to his next journey. It was then that he felt it was the opportune time to release some of his original music. He got together with his cousin, renowned composer and singer, Boruch Sholom Blesofsky, to create something special and original for his soon to be wife. The result was magical. Mi Adir is a song dedicated to Hurwitz's wife as he tried to put into music what he couldn't in words. It's a unique and special gift to the person who he will spend the rest of his life with and build a bayis neeman. The song was first performed at Shmuly's wedding for his bride. The arrangement of the song, by the renowned Ian Freitor of Playmaster Studios, will give the listener the feeling of both joy and exuberance that one experiences at their wedding. A day that all people around the world anticipate, and one they can look back on and reminisce on how magical and holy of a day it was.
Now Shmuly presents it to the world for all to enjoy and be inspired. May we be zoche to the coming of Moshiach bakarov and may all singles find their bashert soon.
For bookings call: 917-459-9537
Download Mi Adir on iTunes, Amazon Music, Google Play and listen to it on Spotify.
Follow Shmuly on social media.
Facebook: https://www.facebook.com/shmulyhurwitz
Instagram: https://www.instagram.com/shmulyhurwitz/
Youtube: https://goo.gl/kQWyFh